Homemade Applesauce and yummi pouches! Yup, that's what this post is about! :) First we'll start with the applesauce part:
I've been dying to make some homemade applesauce ever since I ran across
Doctor Yum's Canning Homemade Applesauce
post almost a year ago. Though I haven't been brave enough to try the canning part yet, I did finally get around to the applesauce part and was so happy the way it turned out! :)
Here's how I started, with my handy dandy steamer that I use for just about any veggie - and now apples! :)
I thought Doctor Yum had a fantastic idea of making applesauce with the peels on. After all, my hubby's always telling us girls, "The peel's where most of the nutrients are!" (and he's right!!... at least according to this Livestrong article on
Nutritional Facts On Apple Peels
) so I was excited to give this a try.
But alas, when I gave it the ol' taste test, though finely pureed, I could still feel the teeny peel flecks in my mouth and teeth as I was eating it. It required the occasional chewing and I just KNEW this would never fly with my girls. I didn't want their first tasting of this to be a flop, so I ended up eating it all up myself. But I didn't mind one bit, especially since it tasted great on my plain Greek yogurt and cottage cheese. :)
Next, I thought I'd be so clever and just do half-peeled apples instead. Still get SOME of the peels' nutritients... Nice idea, right?
Well, I thought so. Gave it to the girls to test it out in their yummi pouches and they said that they liked the taste but kinda wrinkled their cute little noses when they'd come across a teeny tiny piece of skin. (insert rolling of the eyes). So guess who finished off test batch #2? Daddy and me. Once again, we didn't mind! Hubby loved it and remarked that even though he's never been crazy about applesauce, he really loved this one because it wasn't too sickly sweet.
So finally, I gave in at test batch #3 and just peeled off all the skins. Third time's a charm, right? :)
ALMOST... the girls liked it but once again those little noses crinkled a bit when they'd run across an apple chuck that wasn't the size of a microbe. :) Lesson: even if you think you've pureed it long enough, puree it even longer if you got little picky mouths to feed. :) Luckily they still liked it enough to eat, despite the occasional chunk. yay!
Here are some pictures of me pureeing, but apparently not long enough! haha!
And finally the finished product. Pictured are both berry and apple-cinnamon versions. :)
And now for the recipe! Doctor Yum's post gives the basics of what you need, but I've gone ahead and added specific amounts. You should definitely check out her
post
though, because she gives great tips on how to make it and can it! :)
Homemade Applesauce
by: happyvballgirl of My Epicurean Adventures
Ingredients:
8 large apples (I used Organic Fuji's which are super sweet and delish)
3-4 tsp sugar (or to taste or none at all! I used 4 tsp of organic sugar)
1/4 tsp cinnamon (optional for cinnamon version)
Directions:
Place steamer in large pot and fill with water until it reaches the bottom of the steamer.
Peel, cut, core dice apples, place in steamer, cover and steam for about 20 minutes or until tender.
Remove apples temporarily - be careful - it's HOT! Drain water. I actually poured mine off into a 4 cup glass pyrex measuring cup to drink as apple water! Return apples to pot (or place in blender).
Puree by any means you wish. I used an immersion blender but you can use a regular blender as well. As Doctor Yum warns, be careful of hot splatter!
Eat as is or add the additional ingredients to taste.
Makes about 3 cups of applesauce. (or about 6 yummi pouches)
For the berry version:
I boiled about 1 frozen cup berries in a minimal amount of water until warmed and mushy, drained and pureed to make around 1/4 cup of puree. If you have the time, thawing them to room temp would work fine too. Or heck, just puree them frozen if you don't mind slightly bigger chunks. You'd retain more nutrients that way. In the picture, I used blueberries and raspberries and took the extra step to separate out the little seeds using a sieve. (Cray cray, I know, but the girls and I can't stand the little seeds!)
1 cup frozen berries makes about 1/4 cup berry puree.
1/4 cup puree + 1 cup applesauce = berry applesauce!
If you wanna just make a whole batch of berry applesauce, then use 3 cups of frozen berries and puree! :)
Here's that apple water/tea I was talking about. The girls weren't crazy about it since I didn't add any sugar to it, but this mama quite loved it! It wasn't as sweet and syrupy as apple juice can be, but had a nice apple flavor to it. I think I may make another batch just for this! :)
Now it's time for the yummi pouch part! :) I've been a consumer of those applesauce pouches sold in stores for a little while now. I loved them because they my girls loved to eat them, the ones we bought were wholesome with no added sugar or additives AND they were super convenient. But I have to say that every time I packed one of them, my heart sank just a little bit at the thought of the waste I was generating. Yes, I'm a bit of a tree hugger. I'd recycle them if I could, but that was not an easy task. So when I ran across these
yummi pouch Brights
online one day, you can bet I was excited and I was thrilled that
yummi pouch
was willing to send me a set to review. :)
Here's a little more info about these Brights:
Reusable - Yummi Pouch reusable food pouches can be filled over and over with healthy blended snacks.
Freezer safe - Make a big batch of your child's favorite blended snacks or smoothies.
Dishwasher safe - Simply rinse with warm water, expand the pouch and stand upside down in the dishwasher.
Easy to fill - Pour or spoon in food though the wide top zipper opening.
Holds up to 6 ounces
Backed by a 30-day product guarantee
BPA free and Phthalate free
Fully CPSC compliant
Set of 4 is $14.99 plus tax (shipping is free for orders of $30 or more)
First of all, OMG - how completely awesome do these Brights look? I immediately fell in love with their colorful, fun designs and thought my girls would just love them. Plus they're not too cutesy, like some other pouches I've seen. Little Sis would be fine w/ cutesy, but Big Sis who is the ripe ol' age of 9 just doesn't go for that kinda stuff anymore (sniff, sniff). These were perfect.
Next, I love the wide zip top. Makes filling and washing that much less painful.
They fit perfectly in the girls lunch boxes which are usually jammed packed full of stuff. These lay nicely flat and fit right in.
And my favorite part - I'm wasting a lot less now that I use these and filling up my girls with homemade applesauces! But when I just don't have the time to my my own, I just buy the bigger glass jars of applesauce and fill these babies as I go. It's a little cheaper that way in the long run AND I can recycle the glass jars, so I'm one happy camper. :)
The only down side to these is that they were bigger than I anticipated. Note: many of the applesauce brands you buy in stores come in 4 oz sizes - I didn't pay that much attention to that until now. These yummi pouches are 6 oz pouches. When completely filled, it is more than my girls can eat in one sitting. But then again, if they were smaller, they'd be that much harder to fill (and clean) so I'm ok with that. That's just less for me to mess with. What they don't finish, I stick back in the fridge for the next day (or two). :) Just make sure they stay cold and pack an ice pack along with them.
Now let me show you something that I am REALLY excited about. Yet another use for those Trix Yogurt cups! Check out my Earth Day post for my 1st reuse of them:
10 Ways We Reduce, Reuse and Recycle
. Sometimes I think I'm a genius, sometimes I'm sure I'm an idiot. This one just happens to fall under the first category. :)
What's totally cool about this method I discovered for filling these pouches is that the cup fits snugly in the pouch opening and it pushes down far enough that it protects the seal from getting yucked up. Once you're done filling it up, the zip seal stays perfectly mess-free! YES! :)
Finally, here are the obligatory "see my family eat this recipe/use this stuff" pictures. :) Here's Big Sis giving her applesauce AND yummi pouch a whirl after soccer practice. Made for a quick, easy, healthy snack. :)
Here's Little Sis eating hers on the go and eating it with flair. :)
And there's even one of the hubby while on a hike in Sharp Top Mountain near Roanake, VA. I have to say he was the biggest fan of his snack. :)
Here's our applesauce in a yummi pouch packed in a "snack day" lunch bag. :)
In this snack:
Organic seedless red grapes
Organic carrots with ranch dressing
Kraft polly-o string cheese (it's the only kind Little Sis likes)
Trader Joe's Sociable Crackers
Archer Farms Raspberry Limeade Organic Fruit Stick
Cinnamon applesauce in my yummi pouch (w/ an ice pack right behind it!)
I also plan on including a picture of how well they fit in our lunch box with our Easylunchboxes, but the girls took them all to school today and I forgot to snap up a pic (doh!), so that will have to wait until later. :)
There are oh so many other cool things you can fill yummi pouches with, like smoothies, yogurt, pudding, you name it! What would you fill yours up with?
Thanks so much for stopping by and please feel free to make my day by leaving me a comment, joining my blog in the top right corner or liking my on Facebook at
MyEpicureanAdventures
- the more the merrier! :)
Christine, aka happyvballgirl :)
Here are some items used in this post. To see a full list of my favorite bento gear and such, just visit my "
Products I Love
" page! :) Any purchases made through these links earns me a little extra cash to support my bento habit, which my hubby would really appreciate. haha! So thank you!!! if you choose to use any of 'em! :)
Shout-outs:
DoctorYum
- for sharing so many healthy and delicious recipes with us!
Yummi Pouches
- for earth-friendly alternatives to fun and easy to-go snacks!
LunchBots
- for some seriously awesome stainless steel lunch-transporting gear! Check out my affiliate link! :)
EasyLunchBoxes
- love my ELB's!!
My favorite Bento supplier @
All Things For Sale
. Just click on the pix to view/purchase now via affiliate links! :)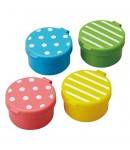 Disclosure: This post contains affiliate links. :)