In these snacks:
Trader Joe's Cheese stick
Organic whole milk vanilla yogurt from Trader Joe's with chopped Ghirardelli chocolate chips
Baby carrots with Marzetti's Simply Dressed Ranch dressing
GoGo squeeZ Applesauce
And as if Saturday school wasn't bad enough, it was "Bike to School Day" so we made the girls bike to school, too. Haha. But, we did arrange to meet up with their friends' family who live in the next neighborhood over and did the ride together, which definitely took the sting off of everything. We adults even got a fun coffee double date out of it, afterwards! So, in my book, Saturday school ain't bad at all! (minus the getting up early part on a Saturday). Can't wait for the full-day Saturday school we have coming up in a few weeks. :)
Thanks so much for stopping by and please feel free to make my day by leaving me a comment, joining my blog in the top right corner or liking my on Facebook at
MyEpicureanAdventures
- the more the merrier! :)
Christine, aka happyvballgirl :)
Here are some items used in this post. To see a full list of my favorite bento gear and such, just visit my "
Products I Love
" page! :) Any purchases made through these links earns me a little extra cash to support my bento habit, which my hubby would really appreciate. haha! So thank you!!! if you choose to use any of 'em! :)
My favorite Bento supplier @
All Things For Sale
. Just click on the pix to view/purchase now! :)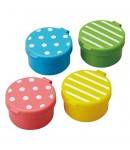 Disclosure: Affiliate links are used on this blog. :)

Yesterday the girls a had a 1/2 day of school to make up part of the 9.5 snow days we had in March. It's just one of very few downsides of year-round school. No lunch was served so I packed more snacks than usual. Happy Saturday school, girls! Lol.