Here's a quick lunch I made last week for the girls. Hoping I'll get around to one more bunny lunch before this weekend but that remains to be seen. :)
In this lunch:
Ham and Cheese Bunny Sandwiches using Applegate Deli meat/cheese and Nature's Own 100% Whole Wheat Bread
Organic carrots with ranch dressing on the side
Cantaloupe bunnies for Little Sis and Peeled Snacks AppleClusters for Big Sis
Annie's Homegrown Organic Cheddar Bunnies for Little Sis and Traditional Party Mix for Big Sis
Trader Joe's Bunny Gummies with filled center as their treat du jour
Keepin' it short and simple here. Got a pile o' mulch I gotta contend with. Must clear out a path so I can get my car out to go buy a proper wheelbarrow. Doh!! Wish me luck. :)
My favorite Bento supplier @
All Things For Sale
. Just click on the pix to view/purchase now! :)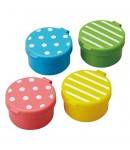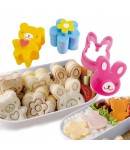 Nature's Own
- for providing such a large variety of healthy, yummy breads!
Applegate
for providing organic nitrate-free yet oh-so-convenient pre-packaged deli meats. Check out my FB post professing my love for them:
FB post professing my love for Applegate
:)
Peeled Snacks
for a healthy fresh fruit alternative (for Big Sis)
Thanks so much for stopping by and please feel free to make my day by leaving me a comment, joining my blog in the top right corner or liking my on Facebook at
MyEpicureanAdventures
- the more the merrier! :)